Elsa Rincon's stay began in one of our spacious Family Birth Suites – a private, home-like setting where women are supported by nurses who specialize in labor and birth. Then, little Tomas arrived. (photo of Elsa, Jesus and baby Tomas)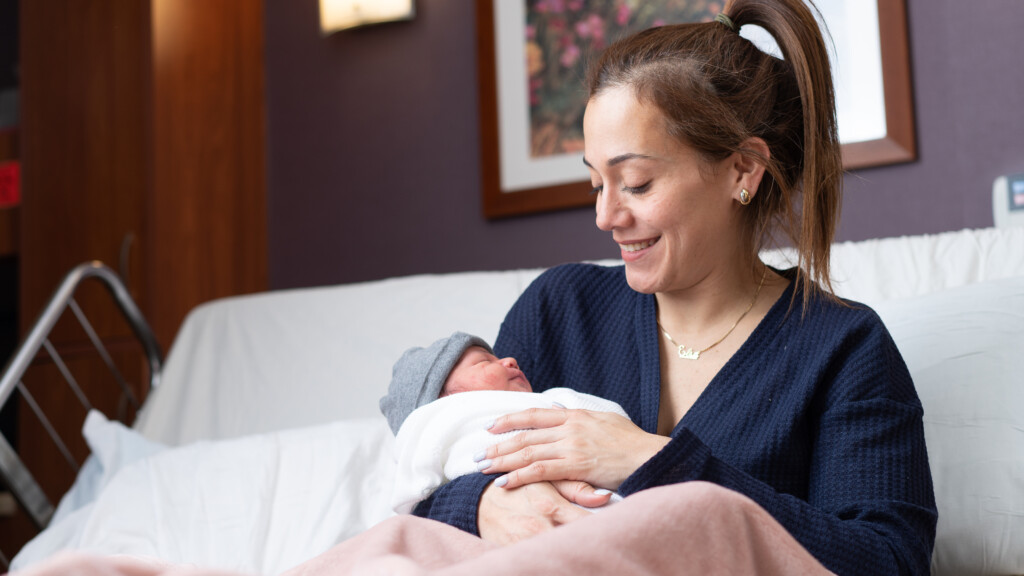 Preparing for your baby and the changes he or she will bring is a big part of your pregnancy. There are times of excitement and times of overwhelming emotion, but having a great birthing team can help quell the anxiety. For Elsa Rincon who gave birth to her son, Tomas, at SSM Health St. Mary's Hospital – Madison in April, a supportive team made pregnancy and the birthing process a very positive experience.
"The medical team was very accessible. The nurses were excellent company and support," said Elsa. "My husband and I were both very happy throughout the pregnancy and delivery with the care from the midwives and the entire team."
Karin Gustafson, a midwife at SSM Health, helped Elsa with position changes in the bed to get the baby into a good position for labor progression.
"Elsa's delivery was spectacular. She arrived early in the morning, got an epidural for pain control and progressed throughout the day," said Gustafson, who was there the moment Tomas was placed in his mother's arms for the first time. "Each birth has its own special moments and this was definitely one of them. She pushed for a while, so when baby came out, we were all so pleased. Her mother was there for labor support and since COVID, we haven't had many births with more than one support person. Her mom was a great coach and really helped her at the end to dig deep and push her baby out. Elsa was scheduled that day for an induction of labor, but went into labor spontaneously. Her body was ready for that babe to come!"
Elsa's stay began in one of our spacious Family Birth Suites – a private, home-like setting where women are supported by nurses like who specialize in labor and birth.
"I went into nursing because I enjoyed science and I loved to learn about the human body," said Gina Bischoff, a nurse who took care of Elsa and baby Tomas. "Pregnancy has always interested me, so I decided to become a labor and delivery nurse. One of the most gratifying moments is seeing the relief on a new mom's face when she delivers her baby."
Leading up to that big moment, SSM Health offers in-room tubs, birthing balls and hands-on guidance to help ease discomfort. Our style of care means your birth experience can be tailored to include the wishes and traditions that are important to you.
Following the birth of your baby, you'll rest in one of our rooms that accommodates both mom and her partner, and includes a queen bed, in-room baby bathing area and massaging shower. Parents can room-in with their baby 24/7. Nurses who specialize in caring for moms and their newborns monitor recovery and support families through those important first few days together.
Learn more about the maternity care available at SSM Health St. Mary's – Madison.